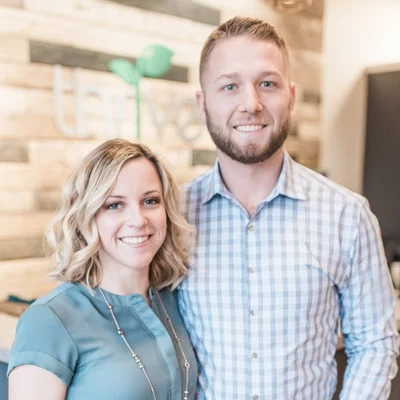 Chiropractors
KRISTIN & RYAN DOLAN, D.C.
Dr. Ryan grew up in Toms River, NJ with his older brother Matthew playing baseball and football throughout high school and in college. He earned his bachelor's degree in Biology from Rowan University. He decided to get his doctorate in chiropractic after realizing his passion for helping people and how much chiropractic had impacted him and his family's lives.
Dr. Ryan decided to enroll at the largest chiropractic school in the world, Life University in Marietta, GA where he and Dr. Kristin met.
Dr. Kristin grew up in Southeast, PA with her two brothers playing soccer and swimming. She received her bachelor's degree in genetics from Michigan State University. Originally planning on pursuing a medical degree, she decided on becoming a chiropractor after watching her mother experience a "medical miracle" with chiropractic care.
While in Georgia, Dr. Ryan and Dr. Kristin helped to grow the largest chiropractic office in Georgia while receiving additional training to care for pregnant women, infants, and children. CHIROPRACTIC ASSISTANT
LILLY
Before becoming a part of the NHC team, I was a practice member! I came to New Hope Chiropractic because I was suffering from neck and back pain after the birth of my daughter. After just a few months of corrective chiropractic care, I no longer was suffering from any pain or symptoms!
My family is under care as well! My husband no longer suffers from low back pain or daily migraines! Also, my daughter who has been adjusted since only a few months old, is getting the best start to a healthy life with a boosted immune system!
Having personally experienced the benefits of chiropractic care in my family's life, I was excited to become part of the team here and join the mission of improving lives with a natural model of healthcare.
I look forward to serving you and your family in the practice and seeing your health transform!
OFFICE HOURS
---
Monday
9:00am - 1:00pm
---
Tuesday
3:00pm - 7:00pm
---
Wednesday
9:00am - 1:00pm
---
Thursday
3:00pm - 7:00pm
---
Friday
Closed
---
Saturday & Sunday
Closed